Dr. David Nutt and Dr. Robin Carhart-Harris, the researchers who blew your mind with a landmark psilocybin study in 2013, are at it again. This time they're examining the effects of LSD on the brain, and they want your help.
The active research phase has already been conducted — 20 volunteers were dosed and scanned, producing the world's first images of brains on LSD. Now the researchers must analyze the raw data before they can publish the results.
To fund this final phase of the study, the scientists have launched a crowd-funding campaign on Walacea.com in partnership with the Beckley Foundation. Within the first 24 hours, they were overwhelmed with donations, handily surpassing their original funding goal of £25,000 (about $37,600). [Update: the campaign finished with over £53,000, more than twice their original goal.]
Why crowd-funding? The scientists explain:
It is difficult to find funding for psychedelic research as the subject is surrounded by taboo, but we hope that there are many of you who will be excited to provide funding so that this fascinating and important research project can be completed.
Watch the crowd-funding video for a sneak peek into this cutting-edge research:
The team's previous psychedelic research
Dr. Nutt and Dr. Carhart-Harris are responsible for the 2013 study that upended everyone's assumptions about psilocybin. The scientists injected 15 subjects with psilocybin and produced fMRI scans of their brains. The results showed that psilocybin's mind-expanding properties came not from increased activity in any brain regions, as had been widely assumed, but from reduced activity in several key hubs. They also showed that psilocybin's effects were closely linked to the default mode network — the network associated with wakeful rest, when the brain is not focused on goal-directed behavior.
A later study, led by neurobiologist Paul Expert and based on the psilocybin data obtained by Nutt and Carhart-Harris, showed that psilocybin greatly increased the connectivity between disparate regions of the brain. A picture says it best: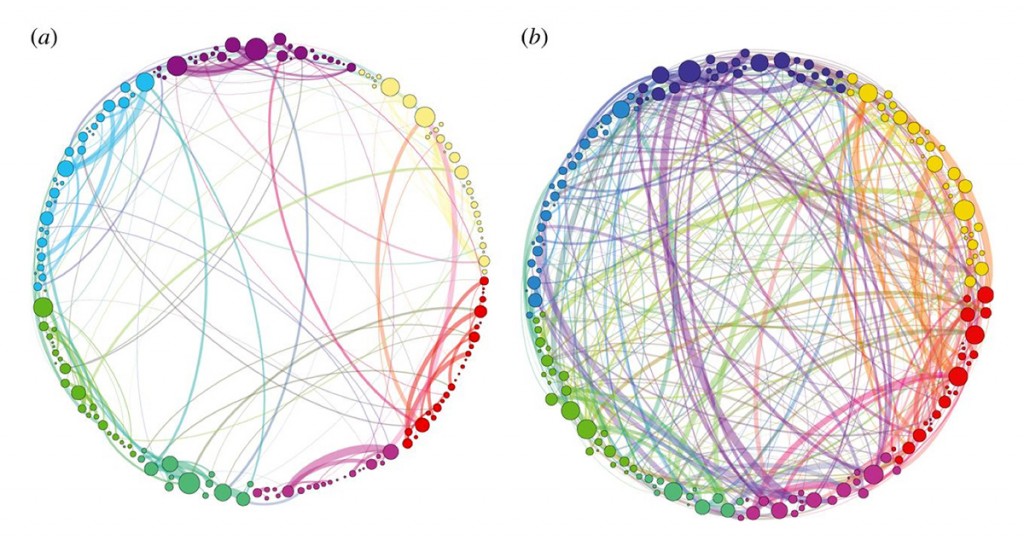 On the left, a brain on placebo. On the right, a brain on psilocybin. The nodes and colors represent different networks — not areas — of the brain. The normal-state brain is highly ordered — connections mainly occur within networks, or between networks but in limited, structured ways. On psilocybin, however, the cross-talk between previously unrelated networks is enormous.
The scientists speculate that the new LSD study will show similar results as psilocybin — decreased blood flow to key Default Mode Network regions, and increased connectivity between brain networks. It will also be interesting to see if LSD puts the brain into a state which resembles dreaming, as psilocybin was shown to do.
Over target? No problem
But what are the researchers going to do with donations that exceed the £25,000 needed to complete the study? Having quickly met their original goal, the campaign organizers have added a new stretch goal:
One question that has been on our minds for sometime, is how does LSD influence creativity?  With further funding, we will extend the current study to include a further module which will combine brain imaging with the investigation of the effects of LSD on creativity and problem solving.  To fund this study completely we need to raise a further £50k.  We would really love to run this study so we're just going to go for it!
For more information on the crowd-funding campaign, check out Robin Carhart-Harris' website, psychedelicscience.org.uk.
References
Carhart-Harris RL et al. (2012) Neural correlates of the psychedelic state as determined by fMRI studies with psilocybin. Proc Natl Acad Sci U S A 109:2138-43.
Carhart-Harris RL et al. (2014) The effects of acutely administered MDMA on spontaneous brain function measured with arterial spin labelling and BOLD resting-state functional connectivity. Biol Psych. doi: 10.1016/j.biopsych.2013.12.015.
Petri, G. et al. 'Homological Scaffolds Of Brain Functional Networks'. Journal of The Royal Society Interface 11.101 (2014): 20140873-20140873.
Tagliazucchi, Enzo et al. 'Enhanced Repertoire Of Brain Dynamical States During The Psychedelic Experience'. Human Brain Mapping 35.11 (2014): 5442-5456.
Liked this post? Subscribe to my RSS feed to get much more!